THE ultimate app for Trade and Services



"I've got a van full of tools, but none are as useful as this !" Dave Plumber, Essex​

Manage all your jobs in one place

Send quotes and invoices

Allocate parts and time

Schedule Appointments

Stock Control

......and much much more!
Better value than any other organising app

Available on IOS or Android

Free Desktop Access

Syncs between all devices
Job Plan​ner Pro is the ultimate app for Trades and Services. Manage all your jobs in one place, with facilities for sending invoice, scheduling appointments and much more.




Rated 4.6 on the App Store



Click this text to start editing. This block is a basic combination of a title and a paragraph. Use it to welcome visitors to your website, or explain a product or service without using an image. Try keeping the paragraph short and breaking off the text-only areas of your page to keep your website interesting to visitors.
Browse our services below
All on one simple to use page. From the client's first call through to scheduling, job completion and invoicing.
Easily book appointments directly on the job page. Handy to use Job timer know exactly how long you have spent on each job.
Send professional Quotes, Invoices and Receipts on site.
No need to keep your paper receipts. Simply snap a photo and the app will store them safely.
Keep track of you​r stock and inventory.
Log in to your account from any pc or mobile device anywhere in the world.
This is the main screen from here you can add a new enquiry, see all your live jobs, view quotes, add your receipts, amend your stock, see who owes you money, see reports, add contacts, View your past jobs, add engineers and settings.
New Enquiry
Each job has its own page where you can easily see all the information you need in one place
Customer Information & Job Details
Select the status of a job if booked in, processing, a

waiting

parts, call back,

quote or quote sent.
Add details and book appointment directly into the app while on the phone talking to the customer.

Add Contacts From Your Contact list.




See job address on google maps.




Call, text & email directly from the app.




Add invoice address if necessary.




Maximise notes to use as a note pad while doing quotes.



Book appointments on calendar and see other appointments.




Job timer calculates how long you were on each job and number of visits. Can be hidden.




Add items directly from your own stock list. Tells you how many you have in stock and deletes them off if put on the invoice.

Customer mode hides parts of the invoice you don't want your customer to see. Trade price, profit, non invoice items etc..

input what the item costs you (Trade) then the app works out your profit. (items can be shown on the invoice or hidden).
Paid by method. not paid, invoice, card, cash etc.
Send quotes, invoice and receipts directly from the job page.
Signing off & Job Photo's
Request a signature from the customer.




Edit text above signature box to suit your needs in settings.




Send your terms and conditions to the customer which you have added in settings.




Take multiple photo's of your jobs option to save and send.



Appointments
From the job page you can book jobs to your calendar and see when you are available.
Live Jobs
View your live jobs in a list or on the calendar
Receipts
Take a snap of your receipt the app will keep them safe for you.
Stock Control
Add your stock on to the app. Sort by categories then items also tells you how many you have.
Reports
See your company performance at a glance.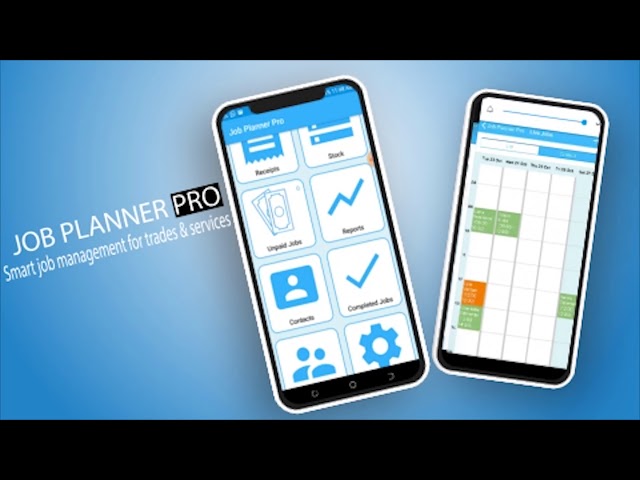 Job Plan​ner Pro is the ultimate app for Trades and Services. Manage all your jobs in one place, with facilities for sending invoice, scheduling appointments and much more.
Your feedback is valuable to us. If you have problems with your app, want to request a feature, or report a bug, we're more than happy to help.



Contact Customer Support

We're here to help you out.

If you have any questions, just reach out to us and we'll respond as soon as we can. Please provide as much information as possible.
A concise list of some of the most valuable professional skills I possess. My tricks of the trade and what I can bring to the table.
Click Here to Add a Title
Click this text to start editing. This block is a basic combination of a title and a paragraph. Use it to welcome visitors to your website, or explain a product or service without using an image. Try keeping the paragraph short and breaking off the text-only areas of your page to keep your website interesting to visitors.

0

/